Antique Tiles
Home Decor Antique Tiles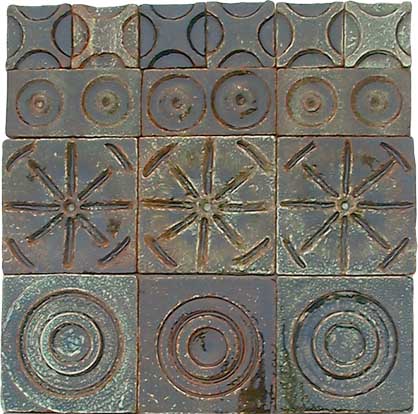 These genuine antique glazed clay tiles are as unique as they are beautiful.

Each piece was individually handmade in Africa over a quarter century ago!
Incredible home decor - A very rare find indeed!

The symbols on these age-old hand-crafted tiles are reminiscent of those portrayed in the clay tiles adorning buildings of ancient cultures. Each of these unique tiles is top glazed to catch rays of light, while the sides retain their red clay with glaze drips. They were made and shipped from abroad so long ago only to be put in storage and forgotten until now! Upon our discovery of these lost treasures, we immediately knew these enchanting tiles would be perfect for our customers who wished to add that special touch to their home decor. They make unique candle plates, incense holders and look great lined up along a cornice or shelf. Those who are renovating or planning a building project will be most excited. Imagine a fireplace surround built with these ancient glazed tiles, and you enjoying the mood set by the reflection of the flames while ancient pattern shadows dance with each flicker of light! Perhaps you have always wanted your own ancient Roman Bath or a Medieval decor kitchen. These tiles make it possible to realize your dream while inspiring ideas. There are so many uses but there is a limited supply of these fine old aged tiles so remember when they are gone, there will be no more, so don't delay! Tiles are in nice condition with minimal edge chipping. Colors range in brown / green spectrum.


We will be happy to fill your vintage tile needs for your next home decor project by matching shades when possible, but remember quantities are limited!