Spangenhelm
Spangenhelm Helmet History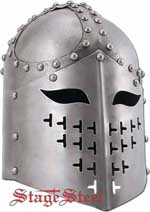 The Spangenhelm was a combat helmet used in early medieval times. It was a popular helmet design. The name of the helmet came from German language and it is actually a combination of two words "spangen" and "helmet". Spangen was the frame of the helmet that consisted of thick metal strips that connected 4 to 6 steel plates. The frame of the spangenhelm usually had a cone-shaped or rounded top. Older versions of spangenhelms included cheek flaps that were constructed from leather or metal. Spangenhelms could also be in a form of aventail that featured a piece of chainmail attached to the back of the helmet. The chainmail was to protect the neck of the wearer. Some models of spangenhelm featured eye protection or full face masks.
The spangenhelm originated in Central Asia. It arrived in Europe by way of what is now southern Russia and Ukraine. By the 6th century it was the most common helmet design in Europe and in popular use throughout the Middle East. It remained in use at least as late as the 9th century.
The spangenhelm was an effective protection that was relatively easy to produce. Weakness of the design was its partial head protection and its jointed construction. It was replaced by the Great helm or casque. The Sutton Hoo helmet has a Spangenhelm design.